A hail net provides an effective form of protection for any plant cultivation. Plants are prone to a wide variety of temperature changes that occur regularly. They can be severely affected by these temperature shifts as well as by moisture. Among these problems, hail is a treacherous thing that needs to be taken care of. Hail storms do a lot of damage to plants and can affect the yield. Hail nets, similar to the shade cloth used in greenhouses, is a garden fabric which an essential part of any large-scale plant cultivation project. Let us understand more about hail nets and how they may help us.
What Is A Hail Net?
A hail net is a lot similar to shade cloth. Shade cloth is a form of garden fabric mostly used in greenhouses to provide varying levels of shades, which in turn affects the growth of the plants in many ways. Hail nets make use of this property along with the superior protection from strong winds and hails.
Hail net is of three main types each with its own unique properties for varying needs. The first one is the Raschel type hail net, which is a unique type; i.e., it is a UV stabilized fabric of poly ethane. These fabrics are wound into a yarn and further knitted into a raschel diamond shaped form. This form of hail net is resilient against rip and has a great lifespan as well. This type is available in green, white and black colors.
The second type of netting is the saw tooth pattern hail nets. This type of nets is made from UV stabilized polyethylene fabrics, which are used in combination with filament and tape. This form of nets is used for a broad variety of crops and provides considerable amount of shade. These are provided with eyelets that allow for a smooth insertion of chords and wires into them. These hail nets are among the most easiest to work with. A great attribute of this type of hail net is that it is one of the most rugged nets available on the market with great rip resistance and is easy to work with. It also lets in sunlight with a shade factor of about 10 percent. These are also available in three colors; green, black and white.
The third one is the Leno type hail net, which is the best form of hail nets presently available in the market. This form of the hail net is made from the Leno type HDP polymer filament. It is a tough fabric with a superior lifespan. These nets are provided with lateral and central selvedges to make them adept for laying in for long rows. Since these are tough, they can be used as a form of bird netting as well.
Just like the shade cloth, the hail nets have a thermal insulation action; therefore, they should be taken care of properly.
Why Hail Nets?
Hail comes with thunderstorms which can cover a large area of land, destroying anything in their path. The overall effect of hail damage usually depend on the size of the hail, the duration of the hailstorm, and the type and growth stage of the crop. Generally, each crop is affected in different ways by the hail.
Surface damage is the most common of the destructions that occur due to hailstorms. These can range from defoliation of the leaves, with entire stems even being destroyed as well. Foliage damage can greatly affect the yields. A greater damage than 25 per cent will result in loss of marketable yield, thereby creating an absolute loss. Hail storms during flowering will greatly damage the crops. A proper use and maintenance of shade cloths will help a lot in overcoming this situation. Some of the root crops are adversely affected if the hail nets are not used properly, since their photosynthetic capacity is affected by hail. Bulb vegetables get completely destroyed by hail in many situations, resulting in the needs for replanting with young plants. As a result, the use of hail nets or shade netting is a necessity for all plant cultivation types.
Installation of a Hail Net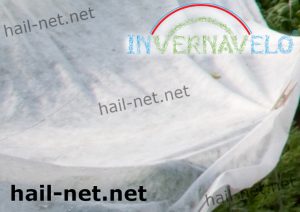 Installation of a hail net is quite simple and there are many effective ways to do so. One can also use the hail nets as a form of shade cloth or even as netting. Hail nets can effectively serve the same purpose of the shade cloth in many situations and nets with varying shade factors are available for sale in the market. Most of the hail nets come taped with eyelets and grommets. A proper metallic base can be built in order for the nets to be placed on them. Ropes and bungees are effective methods along with proper hooks for keeping the nets in place properly, attaching the hail net to the base.
Another common method used just like shade netting is the ventilation of the crops. The knitted nets provide great ventilation for the crops, thereby not affecting their growth process. One of the simplest ways to hang is placing hooks on each edge and hanging the hail nets from them. A proper greenhouse frame can also be used for covering, as it would act as a plant support and as bird netting.
Hail Net as an Investment
A greater yield is always obtained through taking proper care of the plants. Even though expensive at times, a hail net can provide you with the protection required for a great yield and also lasts for a long time.