Introduction of extreme weather damage
Storms and extreme weather can be a disadvantage to agricultural crops. As these weather conditions can cause a great deal of damage. Sudden changes in temperature, humidity and winds can cause crops to deteriorate, wreaking havoc on fields. In addition, torrential rain and flooding can affect crops, causing significant losses.
First, storms can damage agricultural crops because high winds and rain can uproot plants. And the amount of water can cause excess moisture in the soil, which can inhibit plant growth. In addition, high wind speeds can carry away fruit and leaves, leaving plants depleted of nutrients.
Extreme weather can affect agricultural crops because sudden temperature changes and drought can damage plants by exposing them to long periods of very low temperatures and lack of water. Drought can also lead to soil desiccation and salinization of the soil. Which prevents plants from obtaining the nutrients they need for growth.
In addition, sudden changes in temperature can also damage agricultural crops
For example, high temperatures can cause fruits to ripen prematurely, which prevents farmers from obtaining a good harvest. Similarly, very low temperatures can cause plants to freeze, which can cause significant crop loss.
Extreme weather events can also damage agricultural crops. Large hailstones can destroy plants by hitting them with great force. While floods can cause crops to die because excess water prevents plants from receiving the nutrients they need for growth.
It is also important to note that extreme weather can cause diseases in agricultural crops. For example, intense heat can lead to the development of diseases such as root rot. Stem rot and leaf drop, while cold temperatures can cause fruit rot.
It is important to note that storms and extreme weather can significantly damage agricultural crops. High winds, torrential rain, sudden temperature changes and extreme weather events can affect crops, wreaking havoc on fields. Therefore, it is important for farmers to take measures to protect their crops from these adverse weather conditions.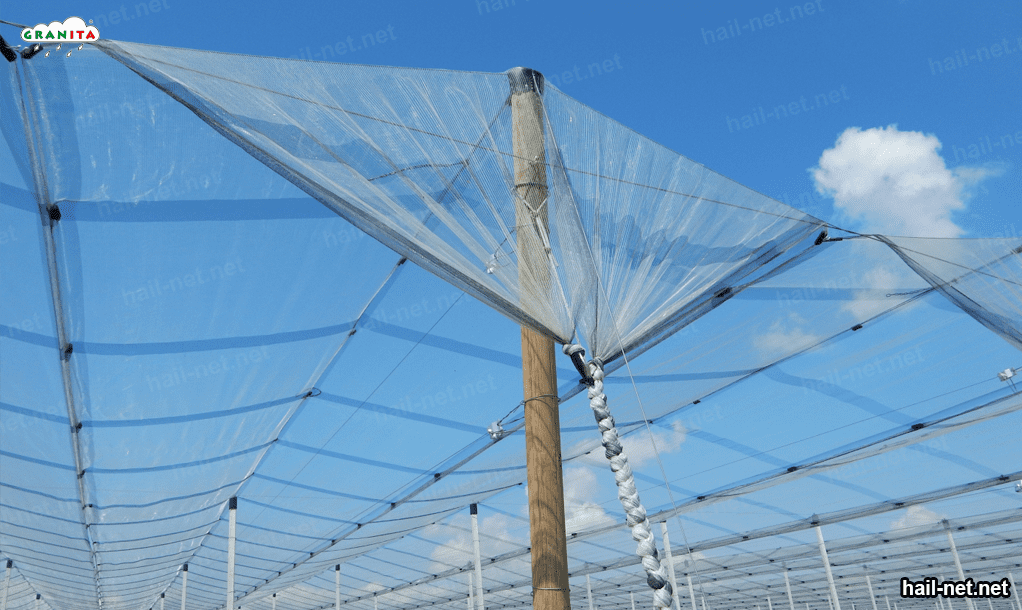 How to avoid extreme weather damage to agricultural crops with anti-hail netting?
Agriculture is one of the main sources of food for the entire world and is vital for the survival of many countries. Unfortunately, storm damage is a constant threat to agricultural crops. Hailstorms, for example, can destroy crops in a matter of seconds. Fortunately, there is a way to protect crops from hail damage: hail netting.
Hail netting is a fabric or metal net that is place over crops to protect them from the effects of hail. This netting works by trapping hail before it falls on crops, thus reducing the damage it can cause. The netting is available in different sizes and configurations and should be chose according to the size and type of crop to which it is to be apply.
Once the appropriate netting has been chosen, it must be installed correctly. The first thing to do is to secure the netting to the posts to prevent the wind from blowing it out of place. It is also important to make sure that the edges of the screen are tight to the ground to prevent hailstones from passing under the screen. Once install, the hail netting should be maintain frequently. This means checking it regularly to make sure it is free of damage and replacing it if necessary. In addition, it is also important to monitor the pressure on the netting to prevent it from deforming due to hail pressure.
Farmers should also take additional measures to protect their crops
This includes making sure that crops are well fertilize to improve their resistance to storms. As well as ensuring that irrigation systems are functioning properly.
Once the storm is over, it is important to assess hail damage. This means checking the netting to make sure it is in good condition and assessing the crops for damage. If there is any damage, it is important to take the necessary steps to repair it as quickly as possible.
Anti-hail netting is an excellent way to protect crops from hail damage. Hail netting should be install correctly, maintain frequently and evaluate after each storm to ensure that crops are protect. In addition, growers should also take other steps to ensure that their crops are well protect.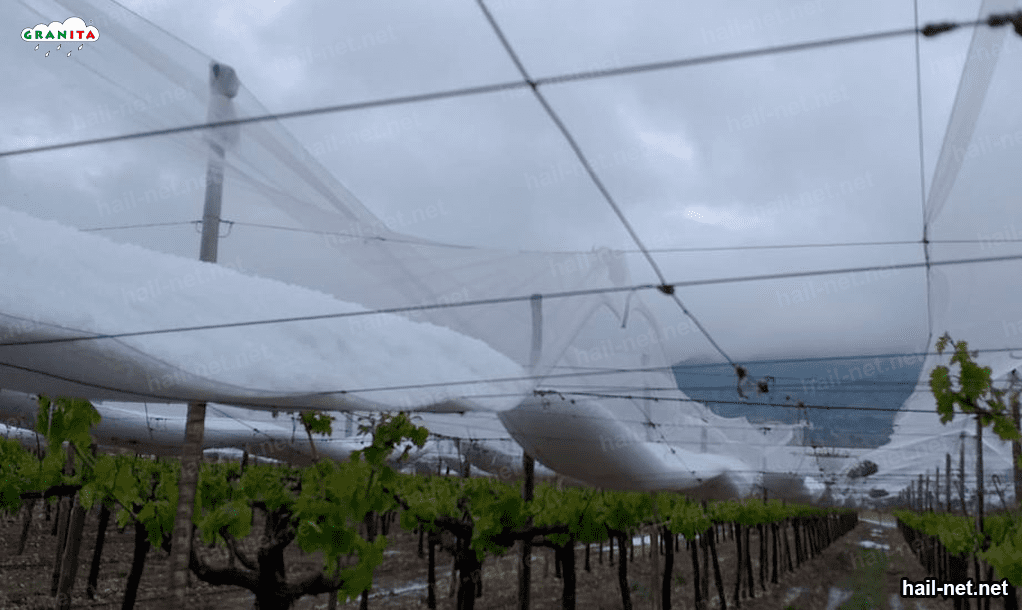 What economic savings are generate by using anti-hail netting?
The anti-hail netting is a technology increasingly use in the agricultural sector for the protection of crops against the devastating effects of hail. This netting is a practical and increasingly demanded solution for farmers, as it allows them to save a large amount of money in the long term.
The anti-hail netting is a resistant and lightweight fabric, manufactured with a wide range of materials such as latex, polyester, aluminum and plastic. This netting is capable of resisting hail impacts of up to 2 cm. This is possible thanks to the strength and optimized design that provides optimum crop protection.
The benefits of using anti-hail netting are multiple. Firstly, the risk of crop damage is reduced and, therefore, the risk of economic losses is minimized. This netting is also a permanent protection for crops, as it can be left fixed to the ground throughout the season and requires no maintenance. This means that once installed, farmers will not have to worry about crop damage due to hail.
It offers cost savings in the use of pesticides
This is because this netting protects crops from insects and rain, preventing these elements from negatively affecting crops. This means that farmers will not have to spend as much on pesticides to ensure crop quality.
The anti-hail netting offers time savings. This means that farmers will not have to spend time repairing hail damage. This translates into time savings for farmers, who can devote their time to other tasks, thus saving time and effort.
The economic savings generated by the use of anti-hail netting on agricultural crops are undeniable. This technology protects crops against hail damage, reduces the costs of pesticides needed for crop protection and allows farmers to save time and effort. These are some of the economic benefits generated by the use of anti-hail netting on agricultural crops.